As many of you are aware, after quite the mission to get to this point, I brewed for the first time on the new kit on Feb 1st, so I thought I'd give a little update on things.
The brew day was quite a challenge which, given I'd never brewed on anything bigger than a half-barrel kit was, I guess, to be expected. Despite having tested everything out in the days prior with just water, a few problems occurred on the day. I'd not had the time the day before to fill and pre-heat the hot liquor tank, so had a VERY long wait for water to reach strike temperature. The auger/hydrator had been wired the wrong way so I had to mash in the 'old fashioned' way – which was no big deal. After mashing in, I was very pleased to hit within 0.1 degrees of my desired mash temperature, pretty good for the first attempt and this held for the hour long mash.
After transferring to the kettle, I dug out the 250kg of grain used, quite a shock when you're used to using around 12-15kg! Boil was fine, whirlpool hops added and nice clean wort was transferred to the fermenter. This is where I had another problem – the heat exchanger didn't cool the wort down sufficiently to reach pitching temperature. In fact it was sitting at around 55 deg C. I'd probably run the wort through too quickly. Problem I had was that by this point I had an issue with the pump and had no way of moving the wort back from the fermenter, nor was I able to chill in situ as I'd not had the time to set up my glycol chiller. Rather frustrated I thought I'd close up the vessel and come back tomorrow as it was now 10pm and the end of a very tiring 16 hour day.
The following day the wort was still at 50 degrees and I took the decision to dump it, rather than risk anything nasty taking hold.
I'm a bit of a perfectionist, so I generally felt a bit fed-up and grumpy for the couple of days that followed, hence the week long silence. After a bit of reflection I thought, maybe, I was being a little hard on myself. I'd installed this kit myself. I'd never been anywhere near kit of this size never-mind brewed on one and, inability to chill the wort aside, I'd pretty much successfully brewed first time round. So I got off my arse and went and brewed it again. And fucking nailed it…..
I am pretty proud to announce the first beer successfully brewed on our new kit!
"The Evil Has Landed" is a 6.5% IPA with new world hops.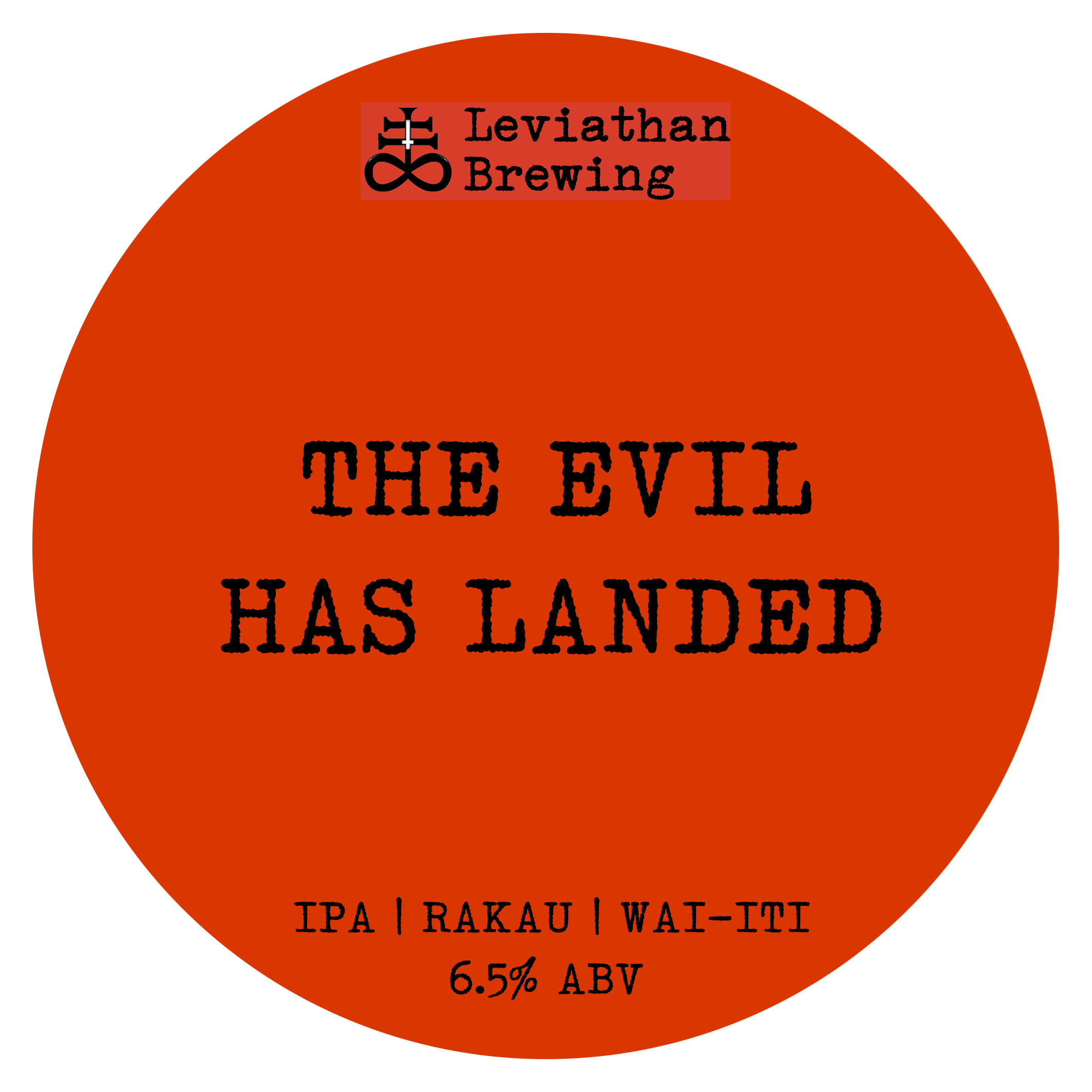 A heavily oat laden grist, a soft water profile and multiple additions of fresh NZ hops, both at whirlpool and dry-hop, and fermented with London Ale III to bring a soft, juicy beer with tropical vibes. Expect apricot, peach and hints of lemon, lime and mandarin citrus and a lingering bitter finish.
The inspiration for the beer name was the QOTSA song of the same name. The song talks about grabbing a second chance at life and living life to the full, and this resonates with me for many reasons, and seemed an appropriate name for the first Leviathan beer on the larger scale…..
Going on a living spree
Plenty wanna come with me
You don't wanna miss your chance
Near-life experience
Faces making noise
Say, be good girls and boys
It ain't half empty or full
You can break the glass, or drink it all
Further details on availability will be announced in due course, once the beer's finished doing its thing, so keep an eye on here and our various social media!
Cheers, Chris