Leviathan Blog – April 21st 2020
It's been a bit of a hectic time of late, but I thought I'd take a moment to reflect on the past couple of weeks, give a bit of an update on what's been going on here, what's coming up etc etc etc.
Two and a bit weeks ago I canned 2 beers. Whilst that was always the plan medium term, I didn't foresee a global crisis bringing this forward a few months and brews 3 and 4 going in to can! However, such strange and uncertain times brings the need to adapt, and adapting I am. The 2 beers canned have sold well, initially solely through Eebria and following the granting of our premises licence last week, through our webshop (link can be found here). Around 2400 of 3000 beers have been sold, which is pretty incredible, so thank you all.
This has meant a lot of work to make changes to the webshop, organise courier accounts for wider area deliveries and mostly myself labelling 3000 damn cans. I've been procuring packaging, a range of snacks and generally reorganising the area around the old 'pilot kit' as a bit of a packing and despatch area. The aim is always next day delivery, for trade I've hit that and for the free local delivery being offered – some have been. Some also have been within 2 hours and others 2 or 3 days (given the weekend). The main bottleneck has been labelling cans up quickly enough to satisfy and deliver orders and the copying of order info from our website over to the couriers website to book deliveries. I have made a few improvements over the past few days to this to free up a considerable amount of time- by integrating the webstore that I had built, with that of our courier APC, so that it's literally a couple of mouse clicks to book collection and print the box labels. I have also invested in a semi-automatic labelling machine, which makes a huge difference, labelling 30 cans a minute. Once the next 2 beers that are being canned are out the way, the cans will arrive fully labelled! Phew.
With regards to beer, I've just scheduled the canning of 2 new beers for the 5th of May….
The first is "Instinct Of Survival" – a 6.3% NEIPA with Ekuanot and Citra, that has been conditioning for the last couple of weeks. Lovely mouthfeel from the oat heavy grist, nice tropical and stone fruit following from the hops, with a low bitterness.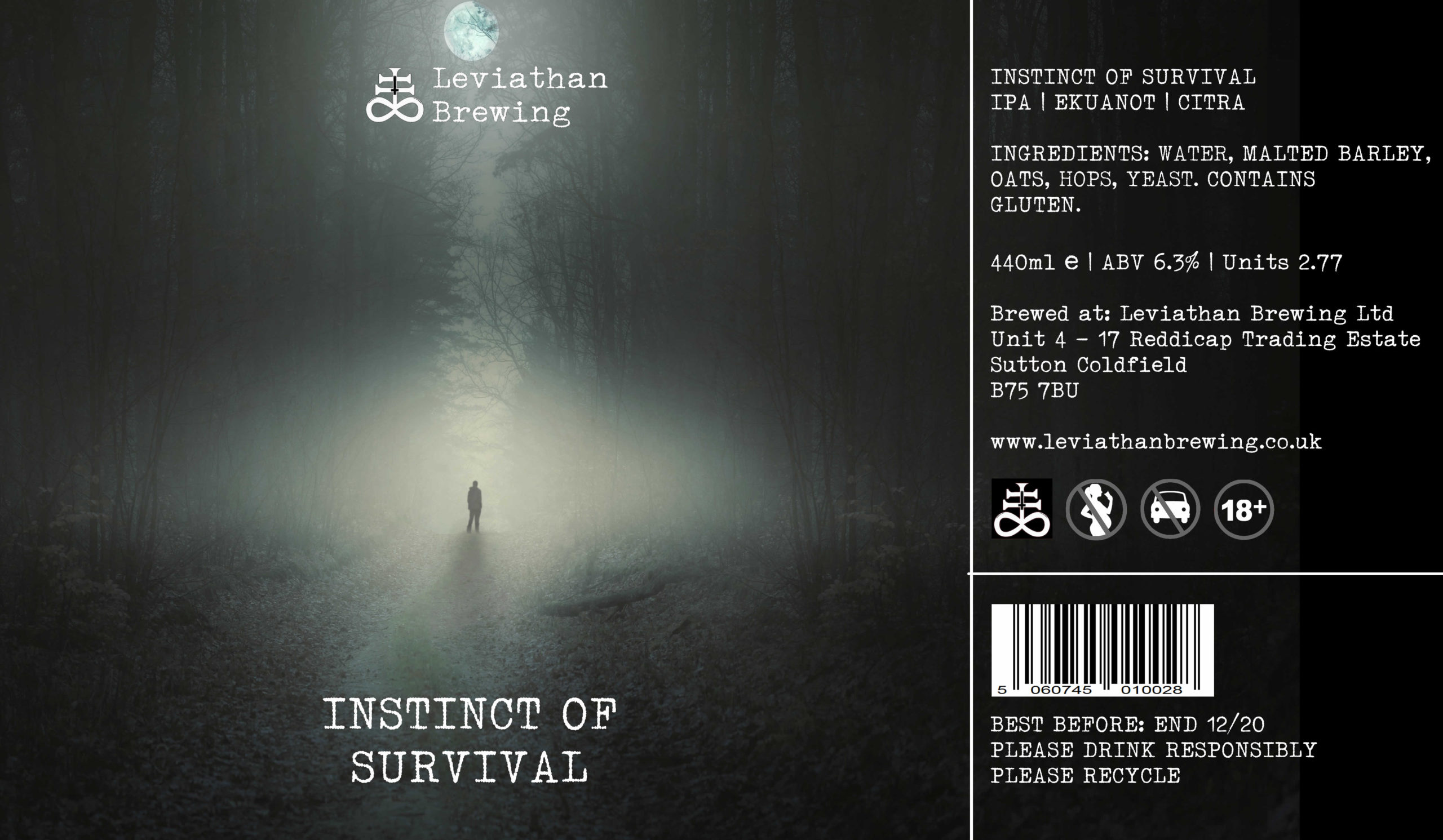 Last week, I also found the time, somehow, to brew another new beer. Black is back…..
The second new beer is "The Darkness Within" – a Black IPA heavily dry hopped with Amarillo, Simcoe and Citra.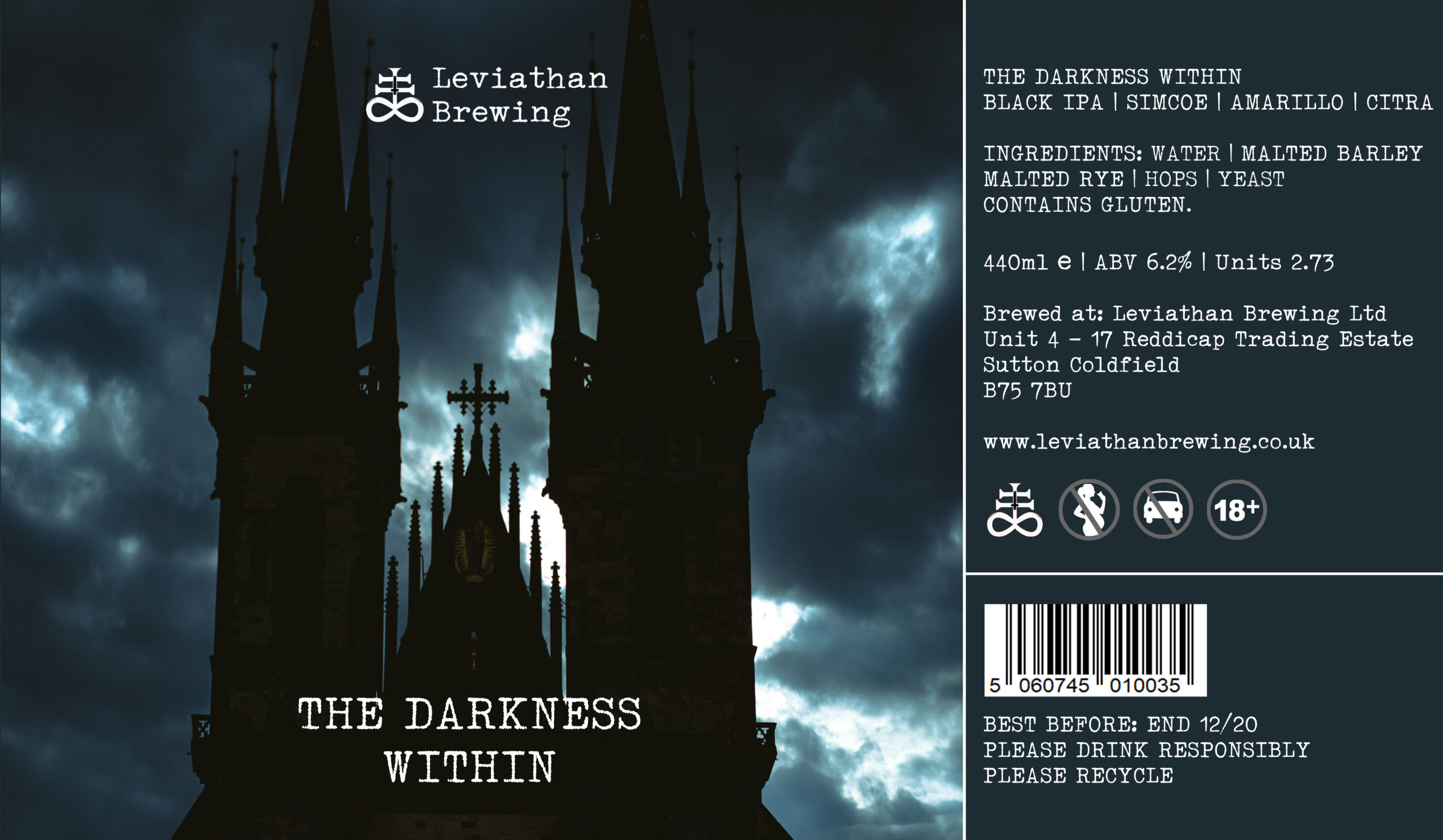 I brewed a very small batch of this back in November while waiting for the new kit to arrive and thought I'd have a go at scaling that up to 5bbl. This is a very dark beer, full of piney, herbal and tropical hop character. #BIPACOMEBACK
Both of these will be available around May 6th for purchase via the webshop. With regards the webshop, it's a little rough and ready looking at the moment, so expect to see gradual changes, time permitting, over coming weeks. The 'snack' selection is being updated regularly (ongoing reseacrh!) and this week will see guest beers starting to be added to broaden the selection, something I was looking to do in the actual Tap Room, had Covid-19 not delayed thing a little.
There are also a couple of beers brewed on the small 1/2 bl kit that will be being bottled this week, but more about these later! Moving forward, my plan is some experimental, small batch, crazy stuff on this kit, something I have always been heavily 'into' brewing since started.
If you've made it this far, thanks for listening! A huge thank you again to all of you out their who've purchased Leviathan beer recently. It means a lot!
Chris.